Resolve Double Bookings Disasters And Difficulties with ResAvenue's Agent Login Feature

September 10, 2010
Two prestigious guests, one suite? Double booking a room can cost you not only a guest but also your reputation. This is especially true today as a furious guest backed with the power of the internet, has the ability to vilify your name online, which can have global consequences. The principal culprit behind 'double booking difficulties' is multiple distribution channels operating using different methods such as telephone, emails, fax etc. to make reservations, without real time reservations updates. The lack of real time reservation updates leaves you and your hotel vulnerable to double bookings disasters and difficulties.
As a ResAvenue affiliated hotelier, eliminating double booking difficulties is a simple and effortless task. ResAvenue has an Agent Login facility that enables you to assign each and every distribution partner from brick and mortar travel agents located around the corner to travel websites operating globally a unique agent login, which will give them secure and direct access to your room inventory. Every time a reservation is made, the room is blocked off, preventing another agent from booking it. The Agent Login facility is a simple yet effective system that can ease your channel management problems. It enables you to manage multiple distribution channels - travel agents, travel websites, wholesalers, remote sales offices, corporate and members through a single facility.
The Benefits
Direct Access:ResAvenue's Agent Login facility gives all agents direct access to your hotel room inventory with the aid of unique ID's. Since all your agents, use the same database to book and reservation updates happen in real time the number of double booking that happen because of typos, multiple databases etc. will reduce.
Custom Manage:You can monitor sales on a channel-to-channel or on an agent-to-agent basis and use the information collected to allocate your room inventory to each channel or agent more effectively. The Agent Login facility is extremely flexible, you can assign different agents different inventory or different rates using the agent's unique ID.
Incentives & Offers:Encourage high sales generating agents, wholesalers and sales offices by offering them special privileges or incentives. (The Unique ID facility ensures that you can assign these packages or privileges only to selective Travel Agents, Wholesalers and remote Sales Offices.)
Maintain Records: Now, segregating your channels, and keeping and managing separate agent records etc. are no longer complicated and tedious processes. With the Agent Login Facility, you can manage your inventory allocation on your distribution network. Since the entire process from booking to payment now takes place directly online, you will be able to view detailed records for each agent on your ResAvenue M.A.R.S. account at a click of the mouse.
How it works?
Step 1: Activate Agent Login facility
Before you can assign an agent a unique login ID, you need to activate this feature in your M.A.R.S. account. Log into your ResAvenue M.A.R.S. account, click on the Property Configuration tab on the Configuration menu, select Default Configuration and activate the Agent Login facility.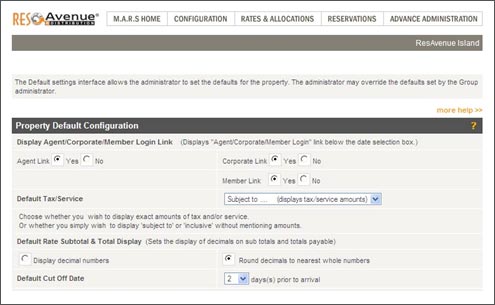 Once you activate the Agent Login facility, the login buttons will display on your hotel reservation page. So, when the agent wants to make a reservation, he visits your hotel website, clicks on the reservation link and logs in.
Step 2: Assign Agent Login
Add your agents to the system. Each agent will have to be added individually. You will have to enter a variety of information about the agent such as the Agent's Contact Information - Name, Designation, Address, Billing Address, City, Country, State, Zip, Phone and Fax. This will allow you to manage your agent directly online and will provide you with 24 x7 anywhere access to his information.
Step 3: Assign each agent room inventory, rates and packages
You need to assign the agent
Agent Code: Track the sales record of that particular agent easily
Agent Title: Identify the agent easily. Generally, an Agent Title is an abbreviation of the agent's name or company.
Agent Email-Address: Main form of communication
Rate Master: Assign an existing rate master or create a rate master specifically for this agent
Allocation Master: Assign an existing master or an allocation master with allocations meant specifically for this agent
Room Description, Rate Display and Room Display: Check to display one or more of these fields on your reservation pages.
Payment Method: Assign a payment type to this agent .
Agent Reservation Process: Assign your Agent a unique username and password, which will provide him with direct access to your assigned hotel room inventory.
Once you have added all of the required information, save the new agent to the system by clicking on the Save Agent Details button. You are now ready to start managing all of your distribution channels online.
To summarize, managing multiple distribution channels, booking mediums and record database is no longer difficult. With ResAvenue's Agents login provides you with a single interface to manage all your distribution channels, resolve double booking difficulties and ease the reservation process for both you and your distribution partners.