New Real Time Availability Calendar Feature Enhances Guest Reservation Experience
March 23, 2010 - Mumbai.
People are impatient and long lines and repetitive processes, are not conducive to earning guest appreciation or your earning potential. In fact, when forced to wait in a checkout line at a retail shop or for a page, they have a tendency to move on unless they are in dire need of said product or information. This lack of patience extends towards your reservation process. If making a reservation on your hotel website is not fast and simple, guests will get frustrated and may be inclined to move on. So, as an hotelier, you need to make sure that your hotel website pages load quickly and your reservation process is simple and fast to complete. Earlier this year, ResAvenue, your online hospitality solution provider introduced the enhanced Booking engine, which has multiple features that will aid your efforts. This article will focus on one of the new features - the 'Real Time Availability Calendar'.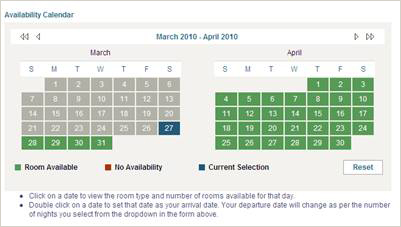 The 'Availability Calendar' is an extremely useful tool that enables guests to check for room availability in real time. Typically, when a guest books online, he or she may have to go through the first two steps multiple times due to lack of room vacancy. The enhanced ResAvenue Booking Engine eliminates this time consuming and frustrating process with its Real Time Availability Calendar. Now, when a guest goes to reserve a room at your hotel, the Real Time Availability Calendar is displayed upfront.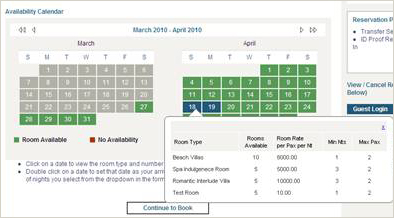 The current and upcoming month are displayed with clear demarcation of room availability – green for room available, red for – no vacancy and blue signifies current date selection. The guest will be able to view the room type and number of rooms available for a day by clicking on a date. For example, if you only have 2 standard rooms available for 14th February, guests seeking to make a room booking for this date will see the same when they run the mouse over the desired arrival date.

In case, there are no rooms available and the guest's travel plans are flexible, he or she can modify their arrival date easily by double clicking on a date to set the new arrival date. The departure date will automatically change as per the number of nights, the guest selected previously.
If the guest is making the reservation months in advance, he can check for room availability easily by using the arrows above the calendar to change the date, month and year.
To summarize, the Real Time Availability Calendar enhances a guest's reservation experience by enabling guests to check for room availability in real time.



















Real Time Payment Processing


Single Window Interface Management


Extensive Distribution Network


Zero Setup Cost


Seamless GDS and IDS connectivity