Images can Prevent Guests from Abandoning Reservations
September 24, 2009 - Mumbai.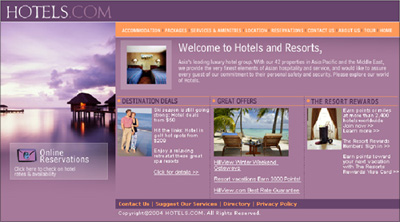 Often, a picture is worth a thousand words. Images on a hotel website compel visitors to stop and explore your website. Images on your online reservation engine reassure guests about their room selection.
Uncertainty and indecision are two of the biggest reasons behind abandoned bookings during the reservation process. Presenting a clear picture can help you combat these two damaging behavioral traits... and its negative impact has on your sales. Add 'Room Images and Room Descriptions' to your reservation page increases the chances of closing the reservation exponentially. Adding these features to your website is not a complicated or time-consuming.
ResAvenue, the complete online hospitality solution makes it easy for you to add images to your reservation pages. It is highly flexible and customizable in nature and it provides you with a range of online tools that enable you to make your reservation pages more attractive and easy to understand. For example: You can modify colors and fonts and add banners and logos. ResAvenue also has an image upload option that enables you to add room images to your reservation pages. You can also add both, a Static Banner or an Animated banner to your page and highlight certain points.
Static Banner
: A simple banner with a room image and description.

Animated or Flash Banner: This banner is a visual showcase – multiple room images with a description. Click to View Banner sample.
There are two reasons 'why' adding a room image banner to reservation is beneficial. The first, it reassures guests about their room selection and prevents abandoned reservations. The second, it adds to your page's appeal and you can use room images to subtly influence and persuade guests to book a higher end room type.
To summarize, proper visual representation is the key to help you sell more rooms and retain the interest of indecisive guests. So, if your reservation page does not have images and graphics, you should add them today to attract, reassure and close sales better. A visually attractive website can also help up sell to the guest in terms of better room type. ResAvenue makes managing room images, description and graphics easy.



















Real Time Payment Processing


Single Window Interface Management


Extensive Distribution Network


Zero Setup Cost


Seamless GDS and IDS connectivity