The New and Improved ResAvenue M.A.R.S Interface
April 25, 2009 - Mumbai.
The new and improved ResAvenue M.A.R.S (Merchant Accounting and Reporting System) interface now makes managing your inventory an enjoyable experience! The new M.A.R.S interface is designed keeping in mind user convenience and satisfaction. Its enhanced navigation system provides you with easy accessibility to different sections of your account and enables you to manage your property details, rates and allocations, reports and accounts effectively and effortlessly.
After logging into the ResAvenue M.A.R.S account, you can check the property details displayed on the right hand side panel. If there are any changes in your contact details, the same can be edited to make sure that all details regarding the property are properly fed into the M.A.R.S Interface. Your last login time and IP are also recorded and displayed.
The most important feature that the M.A.R.S Interface has introduced is the easy accessibility to the Reservations, Accounts and Inventory sections directly from the main menu on the homepage. For example: You can now read reports on the status of the reservations, details on payouts, settled and pending reports and manage the allocation directly on the homepage by clicking on the Reservation & Reports, Account Summary and Inventory link respectively.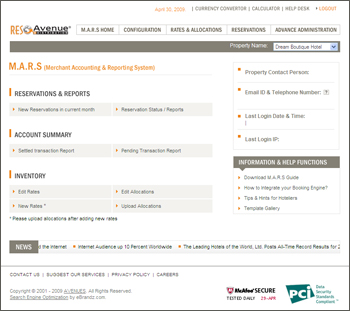 Reservations & Reports
New Reservations in current month: As an hotelier, it is very important that you have a quick view of all reservations you receive in the current month. This feature link on the homepage will give you the entire details, such as the guest name, arrival/departure dates, confirmation number, room details etc.
Reservation Status / Reports: You can now generate reports, check reservation status, failed transactions, chargeback reversed status, etc easily and directly from your M.A.R.S. account homepage. This feature makes it possible for you to get detailed reports of all the reservation status and download the file for your reference.
Account Summary
Settled Transaction Report: You can now view your weekly payout details directly from the main menu panel! This feature gives you a detailed report about the transactions that have already been settled in your bank account through the reservations received from your ResAvenue account. It is extremely useful if you have opted for the Premium / Economy scheme.
Pending Transaction Report: This feature gives you a detailed report about transactions that have been received throughout the week, for which payout is pending and will be released in the coming payout cycle. This report also reflects the chargeback and refunds that will be adjusted to your account.
Inventory
This is the most handy and frequently visited section in the M.A.R.S Interface, as you need to change rates and allocations on a daily/weekly basis. You need to mark 'sold out' depending on the availability and therefore having control of inventory (Rates and Allocations) from the Main Menu is very essential. From this panel, you can upload new Rates and Allocations and at the same time edit existing rates and allocations.
Now you can download the MARS guide from your MARS interface. If you want to use any of the readymade templates for your website, this feature is available on your main menu. You can also stay informed about the latest news and feature additions. So, login now and enjoy your experience with ResAvenue!



















Real Time Payment Processing


Single Window Interface Management


Extensive Distribution Network


Zero Setup Cost


Seamless GDS and IDS connectivity