The ResAvenue Reservation Engine Gets A Facelift

September 25, 2010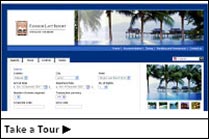 Just as you renovate your hotel to give it a fresh look, ResAvenue has transformed its simple yet effective reservation engine to a stylish, smooth and smart one. This transformation includes much more than a few coats of paint i.e. a new design, it includes brand new furniture additions i.e. features and functionalities. If you have not yet checked out the enhanced ResAvenue Reservation Engine, you really should take a few minutes from your busy schedule and take a tour. It has some great new features and functionalities that are sure to impress your prospective guests.
Here are 5 great new additions to your ResAvenue Reservation Engine:
A great new design to attract guests: ResAvenue reservation pages now have a more modern and chic look. These pages also includes a range of new features and functionalities that will enhance the guest's reservation experience and stay. Now, when a guest clicks on your reservation link, he will find a sleeker, smarter and smoother looking page. This enhanced page offers you amble branding and showcasing opportunities. You can add branding to your reservation page by uploading a custom header with your brand colors, hotel logo and images. You can also use the multiple image option to showcase your hotel more complately. Overall, the restructured pages offer a more appealing design and greater functionality.



| | |
| --- | --- |
| | |
| OLD | NEW |




An Availability Calendar that displays room availability in real time: Guests can now check room availability in real time. ResAvenue has added an 'Availability Calendar' that shows room availability for the current and upcoming month. Guests can also check for room vacancies by clicking on their preferred dates. For example, a guest planning his or her vacation months in advance can adjust the date, month and year settings to check for availability. Moreover, when he runs the mouse over a date, he will see a list of rooms is still vacant.




An Advanced Search Engine that enables guests to search for packages, specific rooms etc.: Visitors to your website are often looking for deals, packages and even a particular room type. ResAvenue has added an 'Advanced Search Engine ' option to make it easier for guests to narrow their search for the perfect room or package. The Advanced Search Engine offer search criterias such as packages only, rooms only and room types + packages.




Multiple Image option enables you to highlight the advantages of staying at your hotel: Create a favorable impression of your hotel by displaying multiple images of your hotel property and rooms. ResAvenue has added a multi-image option, wherein you can upload multiple hotel property images and room images on your reservation pages. This enables you to highlight your property's key features and provide guests with a better impression even before they walk through your doors.



Offer Stay Enhancements, increase guest satisfaction and earn more: ResAvenue has added a stay enhancement feature to the reservation engine that enables you to offer your guests more than just a hotel room. You can now increase your guest's experience and earn more by offering guests a range of value added services at the time of reservation. For example, you can let guests pre-book and pay for spa treatments, jungle safaris, city tours etc.
Want to see more? Take a
tour
.