Increase your Revenue with Resavenue
November 29, 2008 - Mumbai.
Did you know that the Internet connects approximately 980 million computers in 260 countries on every continent? In today's technologically advanced environment, no hotelier can afford to ignore the explosive growth of online bookings. They understand that in order to be truly successful in today's competitive environment it is very necessary to conduct comprehensive Internet marketing.
Many of you are looking for ways to cut operating costs, attract affluent customers, reduce dependency on traditional channels and bridge the gap between those interested in buying and selling online…
That magical bridge is called ResAvenue!
ResAvenue is the largest payment gateway and e-commerce solutions provider in South Asia to accept and validate real-time Internet payments via various payment options. It provides an online reservation system with an in-built payment gateway for the Hotel Industry.
Making reservations over the Internet can boost up your business to a great extent. You can provide your customers with faster, easier and guaranteed access to your inventory and enhance your brand visibility.
Following are the special features provided by the ResAvenue Booking Engine:
Multi-lingual, Multi-currency Solution:
ResAvenue provides you with 9 major international language options along with the convenience of transacting in multiple international currencies, so that your customers can book in their local language and currency. Currently, you can transact in USD, GBP, Euro, SGD, INR, MYR, OMR, AED and BHD. This way you don't lose out on a sale due to currency conversion issues or language barriers.
Multiple Payment Options:
By signing up for the ResAvenue gateway, you get a wide range of payment options at your disposal without investing a large sum of money to develop your own payment network. The customer gets the option to choose from 8 Credit Cards, 20 Chinese Banks, 3 Singapore Banks, 21 Indian Banks, as well as Cash card payment options.
In-built Tools:
With the ResAvenue M.A.R.S interface you can enjoy unprecedented flexibility and customization to map your business policies. You can easily configure variables such as cut-off timings, amendments, cancellations, 'no show' policies, check-in timings, additional meals, taxes etc. It also allows you to feature promotional newsletters and packages as well as update hotel pictures and information at any time.
Direct Inventory Access to Guests and Distribution Channels:
The flexibility of the ResAvenue M.A.R.S. interface allows you to decide the amount of inventory to go up for sale, allocate and adjust your inventory according to the pricing strategy, seasonal variations and festive offers.
Low Setup Cost:
Since the operation is hosted out of our servers, you can save a lot of money on recurring high-end hardware costs, software licenses and expensive technical manpower. Consequently, your set-up cost is amazingly low with no hidden costs and the total solution comes built-in with a complete multi-currency, multi-payment options payment gateway.
Real Time Solution:
ResAvenue's complete real time solution gives the customer the facility to pay up immediately and give him a confirmation in real time. This way you can instantly close a sale and stop him from moving on to a competing hotel website.
Highly Customizable Interface:
ResAvenue integrates into your existing hotel website seamlessly, duplicating the look and feel of your website on to the ResAvenue interface. This way you can customize the payment pages of your booking engine and reassure your customers about the security of the transaction taking place, which in turn will reinforce your brand value. The entire management of this process is in your control and can be changed by you at any point in time.
Maximum Security:
ResAvenue employs state-of-the-art security systems to ensure the security of your transactions. Payment Card Industry Data Security Standard Version 1.1 Standards of Compliance, Verisign 128 bit encryption, daily Hacker Safe Secure Certification and the Verified by Visa and the MasterCard Secure Code protocols keep your transactions safe. These systems are updated constantly to meet the latest standards in international security procedures.
Free GDS & IDS:
By opting for the ResAvenue solution you can list your hotel on the world's best GDS like - Amadeus, Galileo, Sabre, Worldspan for Free. You can also list your hotel on 1000's of travel websites like hotels.com, expedia.com etc.
Free Listing on the Extranet:
ResAvenue Extranet will give you an instant direct route to the massive online and offline travel market. You can instantly distribute your Hotel inventory to thousands of hotel agents and bring your hotel to millions of people purchasing travel on thousands of travel websites for Free.
Collect Payments for Any Deals:
ResAvenue's Invoice facility is ideal for collecting payments for any deals that are closed outside the online ResAvenue system. For example: pre-negotiated or bulk deals, banquet bookings, telephone deals etc. This feature saves you the effort of putting up special links on your website for collection of such unusual pre-determined amounts.
24x7 Customer Support:
Our highly trained technical and customer support executives will solve all your queries and technical difficulties via phone, chat or email and you will receive a response within 48 working hours.
What more can you ask for?
The ResAvenue Booking Engine is easy to use, without any complications and the entire transaction process can be completed in 7 simple steps:
The guest visits your hotel website and looks at your room descriptions, images etc.
When he decides to book a room, he clicks on the reservation link shown as 'Reserve Now' or 'Check Availability'.
The reservation link takes the guest to the ResAvenue hotel reservation system.
He then enters the arrival and departure date and the available rooms are displayed.
He chooses a room(s) and then enters his payment details.
Your guest sees a confirmation screen and receives an auto-generated email from you confirming his reservation.
You receive an auto-generated email, fax, SMS from ResAvenue summarizing the reservation.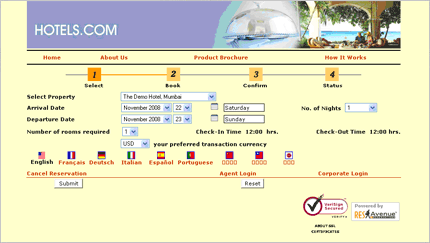 The process is that simple!
The ResAvenue interface is so user-friendly that it empowers you to operate effectively, efficiently and economically. From low cost cutting to advanced hotel industry transaction processing solutions to electronic commerce services, you name it… ResAvenue has it all!



















Real Time Payment Processing


Single Window Interface Management


Extensive Distribution Network


Zero Setup Cost


Seamless GDS and IDS connectivity