The Importance of displaying the Best Room Rates on your Hotel Website
February 12, 2008
"The Internet age has brought a transparency into the Hospitality Industry that makes Price or Best Room Rates the best lure to draw in guests."
Today, Hotels that want to retain their competitive edge not only need to worry about offering better packages at better prices than their competitors. They also consciously need to ensure that the Packages and Prices offered directly by them are far better than the ones given to their own Distribution Partners (agents, websites).
The reason being – the internet has made the Hospitality Industry transparent. Guest no longer have to spend hours calling up each individual hotel to learn what packages are available and at what price. They can simply go online and compare packages and prices at click of a button. This ease in the booking process has made guest more Price conscious and has made Price a key component in sales. (Fact: Guests will book with the hotel or intermediary offering them the best price)
Now, I'm sure your thinking if Price is the key selling point, then by having the same package or prices on all distribution channels is the best way to simulate growth in sales and profitability. Wrong! Yes, a sale is a sale but how much profit you get from that sale differs drastically. A direct sale equals to total profit. An indirect sale is total amount minus the high commissions charged by 3rd party intermediaries. This will eat into your profit margins.
By offering the Best Room Rate guarantee on your hotel website, you can increase your direct-to-consumer online sales and limit the amount spend on paying commissions to your 3rd party intermediaries. Best Room Rate guarantee can also help.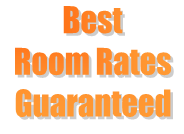 Encourage guests to book directly from your hotel website
Rate guarantees can dramatically boost conversion rates on the hotel website
It is less expensive to guarantee the best room rate than to sell through other distribution channels
Such guarantees have important psychological and promotional effects for consumers
More and more, the guarantee is an expectation by online consumers
Price guarantees have a great "word of mouth" effect
Offering the Best Room Rate at your own hotel website will also help you build up a sizeable number of guests who are loyal to your website.
Here are some facts you need to consider before discounting Best Room Rate as just a theory and not a profit making solution:
In 2007, online bookings amounted to USD 94 billion*
By 2010, online bookings are expected to be 46% of total travel bookings*
Recently Forrester Research found that 69% of US leisure travelers prefer to buy online directly from a supplier while just 27% prefer to buy from intermediaries.This is yet another confirmation that you should focus more than ever on their direct-to-consumer online distribution.
This means that if your website is not an important contributor to overall room sales soon, you are sure to lose a lot of potential sales and profits.
In conclusion, any hotel that wants to increase their sales and profitability in the future should adopt a Direct-to-Customer marketing model. This model will help hotels reduce their dependence on 3rd party intermediaries and provide them with a competitive edge that can help sustain them through low period. This can best be achieved by ensuring that their Direct Sales Engine (Hotel Website) is offering the best room rate available both online and offline. This will help squeeze the maximum out of their hotel website.