ResAvenue Feature - Total Customisation will help Build Brand Image
September 13, 2008
Did you know that more than 70% people making hotel reservations online abandon their bookings half way through due to security reasons? Yes itís true! Mainly because while they are trying to make the desired reservation, they are directed to a booking engine that looks nothing like the hotel website, leaving the customer with a sense of insecurity, which makes him think twice about his decision. Not paying enough attention to the customisation feature of websites is the biggest mistake made by most hoteliers today. After spending a good amount of money on your hotel website, you donít want to make the mistake of not applying enough thought into the look and feel of your website in order to retain existing customers as well as attract new ones. No matter what product or service you're selling; repeat customers will "put you on the map." Repeat customers will continue to purchase from you and they will tell their family and friends about you, thus increasing new business as well. Taking impeccable care of your existing customers is an extremely important step in building a solid customer base, which directly reflects on your brand name.
If a customer trusts you, he will surely buy from you. A customer will identify with you by your brand name and the level of efficiency you bring in your services. Branding creates an image & proper branding creates loyalty. A poorly managed website will repel the customer which will automatically have a negative effect on your booking conversions. For example, what supermarket do you use? Whatís your favorite brand of shoes? Taking this exercise a step further, think about what image comes to your mind when you think of Intercontinental? Marriott? Hilton? This shows that, when it comes to branding, your perception is a result of branding strategy. The degree of customization included in your website design serves as an important purpose as it directly determines your online sales.
So what should you do?? Well, ResAvenue has just the solution for you!!
ResAvenue is Indiaís only Multi-lingual Internet Hotel Reservation System with an in-built Multi-currency Online Payment Solution. It offers the hospitality industry advanced features not available with any other booking engine, enabling hotels to accept reservation from anyone, anywhere, anytime, thereby maximizing their revenue from the Internet.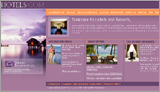 By opting for the ResAvenue services, you get the benefit of enhancing your brand image by customizing the booking engine to match the look and feel of your hotel website. When a customer intends to make a reservation on your website, he is directed to the ResAvenue booking engine to fill in the required details to make the particular booking. In order to avoid confusion, ResAvenue provides a unique feature of customizing the booking engine with your hotel website, just the way you want it!
ResAvenueís custom-designed reservation pages let you:
Format your pages to reflect your hotelís look and feel.
Feature multi-lingual reservation pages.
Feature promotional newsletters on reservation pages.
Feature packages on reservation pages.
Update hotel pictures and information at any time.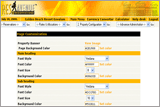 CustomisationAll you have to do is log onto your ResAvenue M.A.R.S Account (Merchant Accounting & Reporting System) & click on the ĎCustomisationí option, wherein you have the option of adjusting your font type, font size, font style, font color, background color & link using the different fields on this page. Don't underestimate the importance of colors as it makes a big difference on how your website comes across in the mind of your customers. You also have the option of adding a banner to your booking engine pages as well as select one or more language options, according to your preference.
While ResAvenue is hosted on common Internet infrastructure, it integrates into your existing hotel website seamlessly, duplicating the look and feel of your website on to the ResAvenue interface. The entire management of this process is in your control and can be changed by you at any point in time.
Hence, ResAvenueís customisable controls allow your booking interface to be an identical reflection of your groupís/hotelís home page. This reassures your guests and trade partners that they are making the reservation on the same page and are not directed to some other website. This special feature of ResAvenue helps reinforce your brand value as well as doubly assure your customer towards the security of the booking taking place. Therefore, ResAvenue helps maintain brand value and generate repeat sales.