Easy to Generate Custom Invoice Facility
October 17, 2008
Extended stay guests are both a blessing and a bane. They are a constant income source but collecting payments from these guests is a major hassle. Most hoteliers have faced a problem of collecting payments from guests who wish to stay in their hotel for an extended period. For example: Let's say a guest wants to make a reservation at a hotel or a service apartment for a period of four months. The amount payable would be a quite large and a majority of guests wouldn't be comfortable paying the entire amount upfront. Hoteliers expecting this type of business need a customizable invoicing solution. This will enable them to generate custom invoices such as a monthly payment plan invoice.
This is where ResAvenue's Invoice Generation Facility comes in. In order to simplify the payment collection process, ResAvenue provides you with a special Invoice Generation Facility that allows you to generate Customised Online Invoices that can be sent to your guests in order to collect the payment. You can create these invoices for variable amount depending on your requirements and how much you want to charge your guests. This Invoice Collection feature is ideal to collect payments from guests who wish to stay at properties for a longer time, for example, service apartments, hotel apartments, etc.
Below are some of the benefits provided by ResAvenue's Invoice Generation Facility
A guest may not prefer paying the entire amount at the time of booking, for a long stay. Here, you have the benefit of generating a customised invoice of a lower amount.
The ResAvenue system does not calculate individual discounts only the general rate shows up. In such cases, you can create an invoice of the discounted amount and send it to your guest for payment collection.
If the guest uses any of your in-house charged amenities (Spa, Internet, Transfers, etc.) and wishes to pay online for the same, you can create invoices for that particular amount using the Invoice Generation Facility.
If the guest extends his stay and wants to pay online for the same, then you can use the invoicing facility to generate a customised invoice for that amount.
Any outstanding amount can also be collected from the guests using this facility.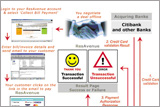 The Invoice Generation Facility is ideal for collecting pre-negotiated payments from virtually anybody, anywhere through email. All you have to do is login to your ResAvenue M.A.R.S. account and select the 'Send an Invoice/Bill' feature. Type in your Customer's / Agent's / Corporate Client's email I.D. and the amount you want to collect. A final version of the Bill, as it will appear in your customer's mail box will be shown to you for confirmation.
FlowchartOn your confirmation, the mail will be sent to your guest containing an embedded link to the payment gateway. When the customer clicks on the link in his email he will be taken directly to the ResAvenue gateway to enable him to pay. He then pays the amount online either through his Credit Cards or Net banking account, similar to the way he makes his other payments using ResAvenue, only difference here is that it is a customised amount. The money collected is then paid out to the hotelier in the specified payment cycle. This feature saves you the effort of putting up special links on your website for collection of such unusual pre-determined amounts.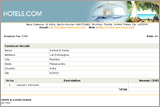 Invoice DemoThe Invoice Generation Facility is now available to Hoteliers using ResAvenue* and comes inbuilt along with the Booking Engine. To know more, contact service@resavenue.com
*
Conditions Apply