Search Engine Marketing Boosts Sales for Hotel Websites
August 28, 2008
No longer is the success of ones business reliant on world-of-mouth and persuasive print advertising. Todayís savvy entrepreneurs understand that in order to be truly successful in this competitive cutting-edge environment it is very essential to conduct comprehensive Internet marketing.
Selling inventory online is not just about creating your online store and letting your website out in cyberspace, expecting people to stumble upon it and take notice. When a person intends to make a reservation online, he uses the internet heavily to conduct research before making a final decision. This helps him find highly optimized quality products and services at minimal costs. People are looking for solutions to problems, and they use search engines for answers. When a hotels name appears on the search engine results in the first few pages, it gains perceived status and Ďtop of mindí awareness.
Hence, it is crucial to understand how to get your website ranked high in various search engines in order to gain maximum visibility. And, Search Engine Marketing (SEM) plays a significant and indispensable role in doing just that!
What is Search Engine Marketing (SEM)?
Search Engine Marketing or SEM, is a form of Internet marketing that seeks to promote websites by increasing their visibility in search engine result pages like Google, Yahoo!, MSN etc. SEM mainly refers to the text advertisements, which appear at the top or on the right hand side of search engine results pages. These are often labeled as "sponsored links" or "sponsored results".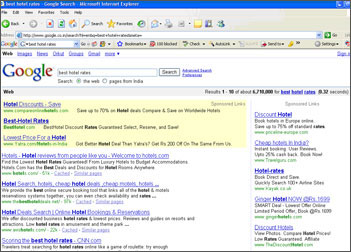 SEM helps you gain maximum visibility for your hotel website on various search engines. After all, no traffic means no sales, which means no profits.
SEM methods include:
search engine optimization (SEO), paid placement, and paid inclusion. SEM is also defined as the practice of buying paid search listings.
There are three primary goals associated with SEM:
1. Lead generation
Search engine marketing & lead generation go hand in hand. With the help of search engine marketing you can get more and more people to visit your hotel website, leading to potential future prospects. Increased traffic to a website is like getting increased foot traffic through a store, it increases the number of prospects you have & the opportunity to turn them into customers. The more people are aware of your websites presence, the more popularity it will gain.
2. Selling inventory online
In order to sell your hotel inventory online, it is important to focus on learning how to create a search engine friendly website so people can find your site. Itís worthless to sell a product online until your website has the right kind of marketing support. No matter how good your product is, unless people know about its existence itís of no value. Search engine marketing helps target the right audience and delivering the right offer at the right time to the right customer.
3. Brand building
We all know that establishing a brand is not an easy task, but the first step in the process is getting in front of a prospect and communicating a unique and compelling message. If no one knows about your hotels offering, then there's no way they can buy your product. There are numerous methods of brand building and some are done through networking, the press and most importantly, the Internet. Being front-and-center when a prospect is searching for something you offer validates your hotel and promotes it to a great extent.
If you already have a strong brand, SEM offers an opportunity to reinforce it, whereas if you are building a brand, the SEM program facilitates initial introductions.
In todayís Internet focused age, a hotels online presence is critical for reaching its target audience. SEM enables you to find more qualified prospects than any other form of marketing advertisement, hence traffic is naturally driven. In other forms of advertisement, you tend to struggle with the competitors & deal with cut-throat competition. But, in Search engine marketing you only have to optimize your hotel website to get higher rankings in search engines.
How does SEM work?
Paid Inclusion
Paid inclusion is the practice of paying a search engine to immediately add your website to its database. In the case of some search engines paid inclusion is the only way to get listed. Itís a simple concept that if you're willing to pay, your site will be listed sooner. Also, if you wish to make frequent changes to your website content your site will automatically show up more often and you will be able to test how changes affect your ranking.
Traditional Ads
This practice involves placing paid advertising on the search engine result pages. Normally, these ads appear based on the keywords entered into the search engines, and you will be charged according to the number of times your ad appears on the search engine. In other words, you pay whether the ad sends anyone to your web site or not.
Pay-Per-Click (PPC) Advertising
Search Engine Marketing process is often generically referred to as "pay per click" (PPC) advertising because you only pay when someone clicks on the advertising link, not when your advertisement is displayed. PPC ads are text-only & are completely controlled by the advertiser. Itís for you to decide which keywords should bring up your ads & how much you want to pay for it. Pay-Per-Click simply means you pay for an ad only when someone clicks it and is brought to your site. The ranking sequence is determined by a variety of factors. SEM also includes banner advertising or ad placement advertising on authority related sites. Traffic from these ads is high which automatically leads to higher conversion rates. The key to running a successful PPC search marketing campaign is to fully understand the campaign objectives; sales, leads, brand awareness or simply traffic. Hence, SEM holds the advantage of instant traffic to your webpage.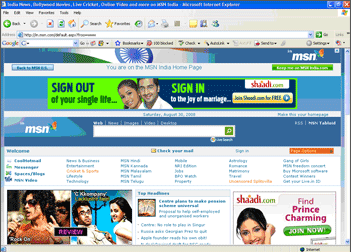 Therefore, if you need to increase traffic & visibility to your hotel website right away, and you don't have a problem with spending a lot of money, this is the best way to go.
Other methods of enforcing the SEM program can be done by redesigning your website in order to reflect your corporate identity and values in a better light and along with that adopt a whole new SEO strategy to incorporate the new identity in all aspects of the site, from content to meta text as well as the use of generic keywords. Search engine optimization (SEO) means ensuring that your web pages are accessible to search engines and are focused in ways that help improve the chances of being found by users.
Another good option is by working with professional SEO and SEM agencies to help you & your business evolve. Make sure you invest enough time in gaining the necessary knowledge to be able to understand the principles, share ideas and find good solutions suitable to your needs, rather than just giving away total control. There are many resources available to gain the necessary knowledge & hoteliers need to embrace this and see it as an essential skill to run a successful business.
Other elements such as e-mail marketing and affiliate marketing add a considerable boost to SEM.
SEM campaign cost
The cost of a search engine marketing campaign depends on the size and type of web site you have, the number of keywords your site uses as well as its popularity. If your web site already has a search-engine friendly design, the costs are far less.
Conclusion
Therefore, the ultimate aim is to get your hotel website highly optimized with refined and modest search engine marketing techniques by defining your website to its optimum level right from the beginning. SEM is necessary to generate sales, drive huge amount of traffic, improve awareness of a customer towards a product and to enhance good communication and relations with people. Thus, SEM is necessary & indispensable in the modern day business and not including it into your marketing mix will be an expensive and disastrous mistake.