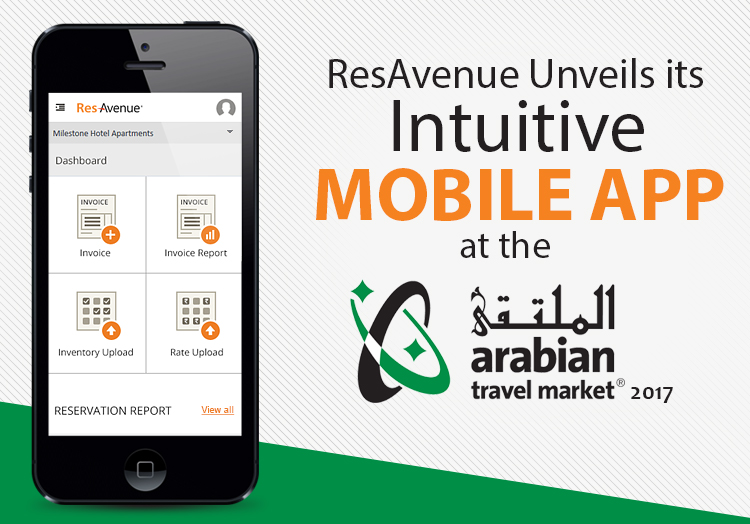 The Arabian Travel Market (ATM) 2017 was held in Dubai from 24th to 27th April. ATM proved to be the perfect venue for the launch of the ResAvenue Mobile App. Available on Android and iOS platforms, this state-of-the-art application allows you to stay in control of your pressing tasks and assignments even while you are on the go. The app enables you to perform various tasks such as manage rates and inventory, receive reservation updates, close sales, collect payments and view key reports.

Install the ResAvenue app and get functionality at your fingertips.
Do you often have enquiries from business travelers wanting to book a room just for few hours? ResAvenue Day Use Booking Engine is the perfect solution for you.

Day Use booking is an emerging trend that allows guests to book rooms just for few hours and pay a discounted rate instead of the standard night rate. This is apt for business travellers looking to get refreshed after an early morning or long-haul flight, or wishing to relax for a few hours before meetings or conferences. This type of business model is sustainable and lucrative as it enables you to sell the room to a transiting guest during the day while still earning from a guest who stays overnight so as to earn more revenue per room. With our ResAvenue Day Use Booking Engine, you can now offer transiting guests the conveniences and luxury of a hotel stay at the fraction of the cost.

A Day Use room is a welcome offering for tourists on a day trip or on a long overlay, and gives them an opportunity to relax for few hours or get refreshed. You can also bundle the stay with valuable add-ons, like access to pool and gym facilities or short city sightseeing trips, thus encouraging guests to spend on your ancillary offerings as well.

No more empty rooms. Our Day Use booking engine will help you tap into new segments of customers and amplify your revenue stream! Know More
INDUSTRY NEWS
Hotels Prioritize Direct Bookings & Web Presence
Game on – the top business focus for hotel owners this year is to increase their direct bookings and improve their online presence. The finding, indicated in the annual Global Hotel Business Index from SiteMinder, sees other considerations for a hotel such as mobile bookings and introducing personalization tools down the pecking order.
Read More
Performance Comparison Of Metasearch Giants
Optimizing a hotel´s online distribution to drive more direct traffic requires digital marketing strategy and tools to be efficient and effective in their efforts within the online community. In 2015, just two years ago, organic traffic accounted for 62% of the traffic in a hotel website. This figure has reduced to 42% in 2017.
Read More
ResAvenue Extends a Warm Welcome to Its New Partner Hotels
Bangalore, Karnataka, India
Palghar, Maharashtra, India
Mahabaleshwar, Maharashtra, India
Nasik, Maharashtra, India
Mahabaleshwar, Maharashtra, India
Vengurla, Maharashtra, India
Alibaug, Maharashtra, India
Lonavala, Maharashtra, India
Sri Ganganagar, Rajasthan, India
Bengaluru, Karnataka, India
Mahabaleshwar, Maharashtra, India
Bhubaneswar, Odisha, India
Coimbatore, Tamil Nadu, India